Tango Hotel is Giving Away Up to $100,000
Tango Hotel is giving away up to $50,000 to one lucky contestant and up to $50,000 to a Tango Hotel affiliated charity of the winner's choosing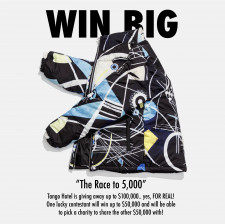 Tango Hotel has announced the launch of their new campaign titled, The Race to 5K, in which they will be giving away up to $100,000. The Race to 5K, which was also announced on their social media and website, will feature eight key puffer jackets. Contestants who purchase a puffer jacket will be automatically entered into the raffle. The jackpot amount will be based on the amount of puffer jackets sold throughout the contest. The winner will be announced on or about March 31, approximately one month after the official start date. While the winner will personally receive $50,000, they will also be able to choose from a list of eligible charities for Tango Hotel to donate up to $50,000 towards. The full terms and conditions are available at tangohotel.com.
The brand launched in 2016 and was founded by Rich Hilfiger, son of Tommy Hilfiger, Stevie Williams, professional skateboarder, and Al Baseer Holly, world renowned artist. Tango has gained notoriety as an art-driven lifestyle brand by creatives, for creatives. Ever-evolving, they have found success through collaborations with artists like Rime MSK, Layer Cake, Al Baseer Holly, Cramcept, Mister Cartoon, Wassily Kandinsky, Patrick Nagel, and Brandalised. Through these collaborations, Tango has become the industry leader in wearable art catching the attention of such celebrities as Noah Cyrus, Jason Tatum, MoneyBaggYo, Teyana Taylor, A-Boogie, DJ Marshmello, and more.
"Tango Hotel's fundamental value is to enrich the lives of those around us," said Saul Ezra, the brand manager. "We decided on doing this campaign because we knew that we had the ability to change lives, from the individual that wins the contest to the charity that they choose to donate to. We understand that this has been a tough year for everyone and we believe that through great wearable art and sharing our resources, we can begin to heal together with the Tango Hotel community."
About Tango Hotel:
STREETWEAR REDEFINED - Tango Hotel is an art lifestyle label providing artists another medium to express themselves and artistic talents. The label was founded by a group of artists - Al Baseer Holly "Artist of Sight'', Rich Hilfiger "Artist of Sound", and Stevie Williams "Artist of Motion." The bi-coastal label features men's clothing and accessories telling the artist's story and style of expression. The label continues to collaborate with contemporary artists such as Jersey Joe "Rime", Sean Sullivan "Layer Cake", and Kevin Loung YK Slanty.
About the Founders:
Stevie Williams: Represents the brands skate and active influences. A professional skateboarder, Williams was included in the twenty-seventh position of the "30 Most Influential Skaters of All Time."
Al Baseer Holly: Represents the art aspect of the brand. With jaw-dropping oil on canvas works of art, Al Basser Holly is making big waves in the art scene and uniquely combining his work with resort streetwear.
Rich Hilfiger: Represents the brand's intrinsic deep-rooted grounding in music. A world-renowned musician, Hilfiger has established himself as a formidable rapper, collaborating with the likes of The Weeknd, Kid Cudi, Leona Lewis, and more.
To request content, please contact:
Giana Elenterio: giana@tangohotel.com 
Visit The Race to 5K landing page by clicking here or view the brand's website here. 
---